Cristina Andrea Quiroz is a Violin teacher (Suzuki method) trained at the Deutsche Suzuki Institut by Kerstin Wartberg, presenting us a piece from her book "El violín de Emi" ("Emi's Violin"), a compilation of Argentinean and Latin American children's and folk music, which the author adapted to the learning objectives of beginners in the Suzuki method.

This adaptation of the piece invites students from different levels to play and dance together. Students will be able to enrich and develop especially the sense of rhythm and coordination.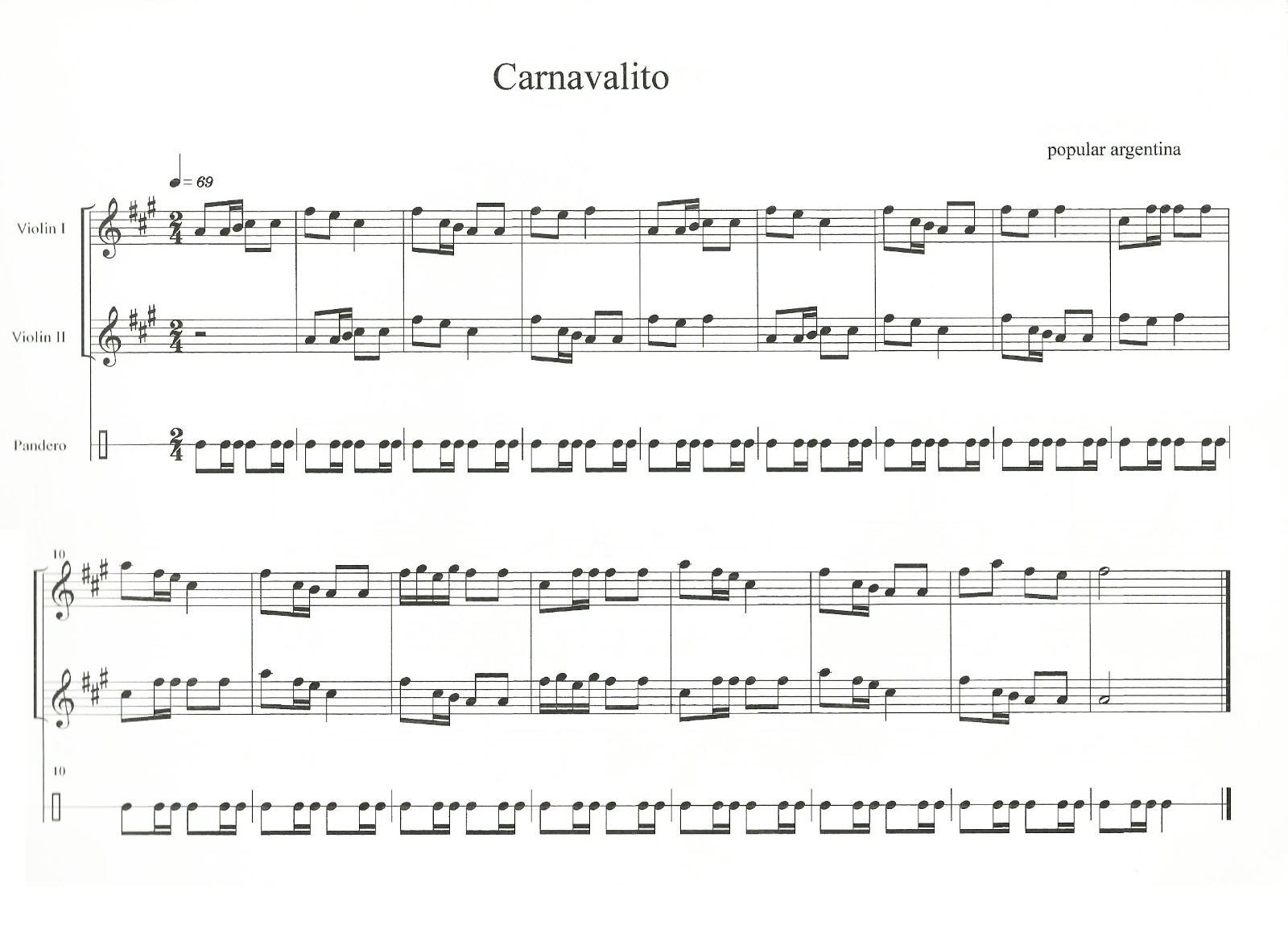 For younger students there are drawings made by the author, the vivace sound corresponds to stacatto, and the bell sound corresponds to the Detache, with a character representing each bow stroke and giving children the possibility to recognize and draw them in each piece, thus providing visual and emotional elements for a better understanding.

Pedagogical objectives
1) Reinforcement of the rhythmic cell of the 3rd variation of "Twinkle"
2) The left hand will work the fixing of the 1st finger placement
3) Knowing the canon form
4) Knowing the pentatonic scale
5) Development of individual and group sense of the "tempo"
6) Stimulate the coordination of different and simultaneous movements of the upper limbs. (gross psychomotor skills)
7) Develop independence of arm movements (laterality)

"Carnavalito"
It is a traditional folk dance from the northwest of Argentina and other South American countries, such as Chile, Peru, Bolivia, Venezuela, Colombia and Ecuador.
Arranged as a Canon for 2 violins and percussion in the pentatonic scale of "LA"
The ostinato can be played with different percussion instruments as well as open strings.
It can be repeated as many times as the choreography requires.
Parents and children (pre-twinkle level) can play ostinato.
Children with book 1 can play the 1st voice
Children with book 2 can play the 2nd voice
The Choreography
It has several dance steps that can be combined freely.
Below you can find different dance steps combinations by age:
Young https://youtu.be/FJs5JY-zmNY
Kinder https://youtu.be/NnE8DmYvs0g
Primary School https://youtu.be/G99G-VIXhwc
To order the book, the audio of the original percussion and piano accompaniment please send an email to: andreaviolin@yahoo.com.ar
The book is written in Spanish and German (although there is no English version yet, you can ask the author for a translated copy).