Ukrainian Suzuki teachers and students in severe hardship
Since the beginning of the war in Ukraine, I have been in close contact almost daily with Nataliia Koptienkova, the director of the Ukrainian Suzuki Association, as well as other music teachers in Ukraine.
Nataliia has remained in her home country and from there organizes opportunities for her refugee students to find safe shelter, continue their music lessons, obtain musical instruments, and much more.
Most of the Ukrainian Suzuki families and their teachers, our colleagues, have lost everything, their homes, their kindergartens and schools, and of course the music schools. Most of the theaters and opera houses have been destroyed and everything that made up their former lives no longer exists.
But their hope for peace, freedom, and a future worth living has not yet died.
When I learned from Nataliia in which places Ukrainian Suzuki students and teachers arrived in Germany after their escape, I contacted the teachers who live in this region.
Without exception, all these teachers spontaneously agreed, without any reservation, to help these people in a selfless, exemplary way and to help the children, their mothers, and the teachers.
Here I would like to mention only the names of our members who agreed to share their names:
Kathrin Averdung
Margherita Biederbick
Julia Brühne
Dorothea-Friederike Gruppe
Mike Hoover
Luise und Annelie Kopp
Tanja Kull
Christiane Lause
Uta Mehlig
Daniela Mickail
Silvia Orza
In a very short time, instruments were provided free of charge or the payment of a loan violin was taken over. Furniture, computers, printers, sheet music, and household equipment were also donated.
The teachers of the German Suzuki Association teach the Ukrainian children without fees and support the families in every possible way.
I would like to express my heartfelt thanks to all these colleagues – as well as to those not mentioned by name here! They are proof that empathy and unselfish commitment are alive in our association.
Kerstin Wartberg
In mid-February 2022, the world still seemed to be fine:
Children proudly presented their musical talents in festive concerts in magnificent halls.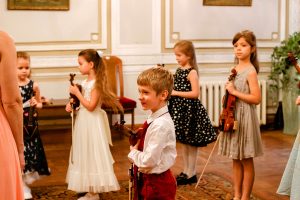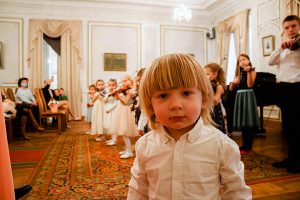 The music school in the Kiev region was destroyed some weeks ago. Among the debris are violins, double basses, pianos, and also grand pianos.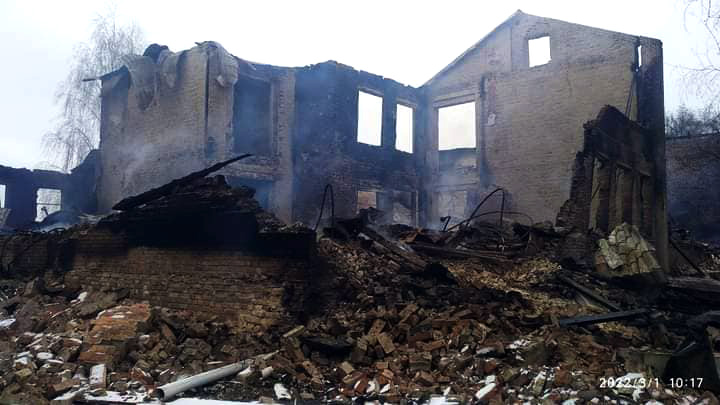 Natalia Didykina wrote a few weeks ago:
Today it became known that our guitar teacher MYKOLA TALALAYEV died at the hands of the Russian occupiers ….
Now this world no longer exists.

Ukrainian soldiers report from Irpin:
These children had been hiding in a cellar for days.
At first they were very afraid to come out of their hiding place until they heard that we spoke Ukrainian.
The children were dirty, scared, and hungry, but despite all this, some of them could still smile when they saw us.
House of Culture in Kyiv after the Russian invasion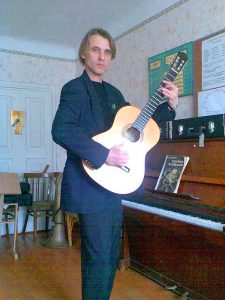 I can describe him as follows: A really good, sensitive, empathetic person, a great teacher and guitarist and a TRUE PATRIOT OF UKRAINE!!!!
It is impossible to accept the violent death of a loved one. It is even more difficult to find comforting words, and impossible to reduce the pain and despair when the heart of a loved one stops beating.
Dear Mykola,
our wonderful memories of you will always shine brighter than the horror of your death!