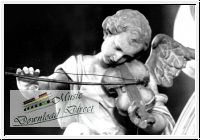 Engelbert Humperdinck (1854-1921)
Evening Prayer from the opera "Hansel und Gretel"

The scene develops as follows: While the two children sing their evening prayer, fourteen angels appear onstage in light flowing robes. Hansel and Gretel fall asleep peacefully as a golden rain descends from heaven. Before the curtain slowly closes, a delicate postlude is played by the orchestra, which is played here by the organ.

MP3 & Sheet Music with Arrangement for 2 Violins & Piano or Organ by Kerstin Wartberg

Example page: FREE DOWNLOAD

Listen to the audio example (here only in low quality):
"Evening Prayer" arranged for 2 Violins & Organ
Rudolf Gaehler & Kerstin Wartberg, Violins
Tobias Kunst, Organ

About this item:

Violins 1 - 2
Level: Intermediate (Suzuki Book 4 & up)
Technical Features (Strings): Expressive refined phrasing, Vibrato, slow bows, bow distribution, shifting, dynamic nuances

This download contains the following 3 files:
1. MP3 (2 Violins & Organ)
2 Full Score (2 Violins & Piano/Organ), PDF (2 pages)
3. Parts (2 Violins), PDF (1 page)