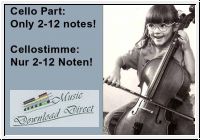 Very Easy String Trios
Collections 1-4
arranged for two violins & cello by Kerstin Wartberg

About this item:
All the parts are purposely kept as simple as possible. The priority in this endeavor is not compositional elegance but rather the ease of playing music in 3 parts. After the notes have been learned, the real work can begin: improving the quality of the ensemble playing. The main teaching focus should be the adjustments between the various voices with regard to: intonation, rhythm, dynamics, articulation, phrasing, bowing, breathing together, beginning and ending phrases together, etc.

Skill level
violin I: easy - medium
violin II: easy - medium
cello: very easy - medium
This download contains 93 pages (zipped):

Collection 1
1. Full score, (PDF 8 pages)
2. Violin 1, (PDF 3 pages)
3. Violin 2, (PDF 3 pages)
4. Cello, (PDF 3 pages)

Pieces:
Twinkle, Twinkle Little Star
Lightly Row
Song of the Wind
Go Tell Aunt Rhody
Oh Come Little Children
May Song
Long, Long Ago

Collection 2
1. Full score, (PDF 9 pages)
2. Violin 1, (PDF 4 pages)
3. Violin 2, (PDF 4 pages)
4. Cello, (PDF 4 pages)

Pieces:
Bach: Minuet 1
Bach: Minuet 2
Bach: Minuet 3
Schumann: Happy Farmer
Gossec: Gavotte

Collection 3
1. Full score, (PDF 15 pages)
2. Violin 1, (PDF 6 pages)
3. Violin 2, (PDF 6 pages)
4. Cello, (PDF 6 pages)

Pieces:
Weber: Hunters' Chorus
Bach: Musette
Bayly: Long, Long Ago & Variation
Thomas: Gavotte from "Mignon"
Beethoven: Minuet
Boccherini: Minuet

Collection 4
1. Full score, (PDF 10 pages)
2. Violin 1, (PDF 4 pages)
3. Violin 2, (PDF 4 pages)
4. Cello, (PDF 4 pages)
Pieces:
Handel: Chorus
Brahms: Waltz
Handel: Bourrée
Schumann: The Two Grenadiers
Paganini: Theme from "Witches`
Lully: Gavotte​