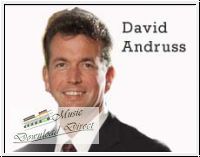 Tonalization / The Bell Song, Page 02
My First Technique Book, Track 48

New Piano Arrangements by David Andruss

These piano accompaniments belong to the STEP by STEP series and to My First Technique Book & My Second Technique Book but fit as well for many pieces of the SUZUKI VIOLIN SCHOOL.

The piano accompaniments are arranged in an EASY and in an ADVANCED VERSION.
They paint a picture with sound of the motions or tone quality that the students should strive for, so these accompaniments are a valuable aid in mastering the specific new teaching points (such as quick finger action or a specific tone color).
In addition, they are so full of musical fantasy that they will inspire the student to play each exercise and piece again and again. Even the smallest task, such as playing a scale, becomes a wonderful musical experience.

The ADVANCED VERSION is particularly suitable for the accompaniment of large groups in grand halls.

FREE DOWNLOAD: Shifting Positions

SKILL LEVEL
Piano part (score): medium/high

Pages: 15
File: PDF (470 KB)

Contents:
Page 02 The Bell Song (Tonalization) - My First Technique Book, Track 48
Page 03 The Bell Song (Tonalization) in G Minor - My First Technique Book, Track 50
Pages 04-07 Shifting positions: Marionette Dances in 2nd Position - My Second Technique Book, Tracks 25-28
Pages 08-11 Shifting positions: Marionette Dances in 3rd Position - My Second Technique Book, Tracks 14-17
Pages 12-13 G Major Scale - The Three Horses - My First Technique Book, Track 71
Pages 14-15 B-Flat Major Scale: The Woodpecker - My First Technique Book, Track 70