Violin Book 1A ADVANCED VERSION (Pack 2)
Category: Violin, Viola, Cello School, vol. 1 - Arr. David Andruss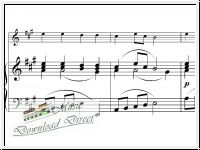 STEP by STEP

New Piano Arrangements by David Andruss

These piano accompaniments belong to the STEP by STEP series but fit as well for many pieces of the SUZUKI VIOLIN SCHOOL.
The piano accompaniments are arranged in an EASY and in an ADVANCED VERSION.
The ADVANCED VERSION is particularly suitable for the accompaniment of large groups in grand halls.

FREE DOWNLOAD: Example page

SKILL LEVEL
Piano part (score): medium/high
Pages: 19
File: PDF (589 KB)

Contents
The A Major Scale
Song of the Wind
Snow and Wind (on the A String)
Go Tell Aunt Rhody
Snow and Wind (on the E String)
Oh Come Little Children
The First Finger-Dance (on the A String)
May Song
Long, Long Ago
The Second Finger-Dance (on the D String)
Thunderstorm (Preparatory Song for Allegro)