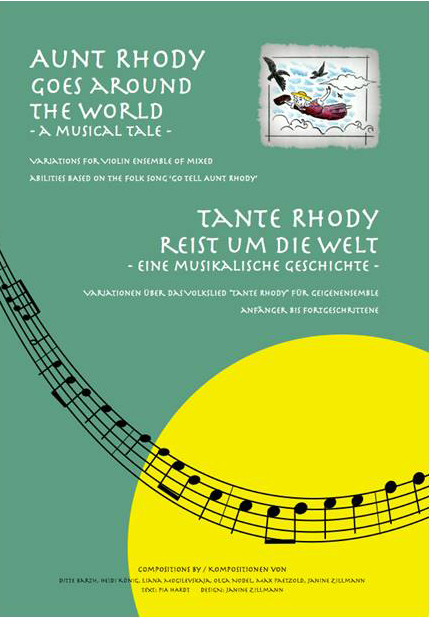 This book is a collection of arrangements of the Aunt Rhody theme (no: 4 in Suzuki Violin School Volume 1) which enables all our students to play together, from the very beginner to the advanced player.

Here you can download a few excerpts from her book "Aunt Rhody goes around the world" to give you an impression:
Aunt Rhody in Egypt
Many teachers already know with the middle Eastern augmented 2nd interval - or in plain English - high two, low one! This arrangement includes a shimmering tremolo ostinato and rhythmic percussive accompaniment. Also a pizzicato E and A string part includes any beginners. I have been assured by Egyptian teachers that this arrangement has indeed been played in Egypt!

Aunt Rhody Tango
This arrangement is for an advanced player(s) or teacher and is a virtuosic descant to the original Aunt Rhody melody. A tango rhythm accompaniment adds to the South American flavour. These rhythmic parts are great for children to play who are just learning to read music. Open string E and A let the pre Twinkle children join in.

Aunt Rhody Lullaby
This clever arrengement by Heidi König subtly changes the original into compound time with a gentle pizzicato accompaniment - pizzicato being an often neglected skill on the violin! The first four notes of twinkle played six times through fits as a brilliant accompaniment. A third easy part is a great note reading exercise.
In the book you can also find Aunt Rhody in Ireland, in Russland, in the ballroom, in the 18th century, in the rodeo, in China and of course in Africa!
HERE you can order the complete version in full colour and with beautiful illustrations. The text is in German and English.