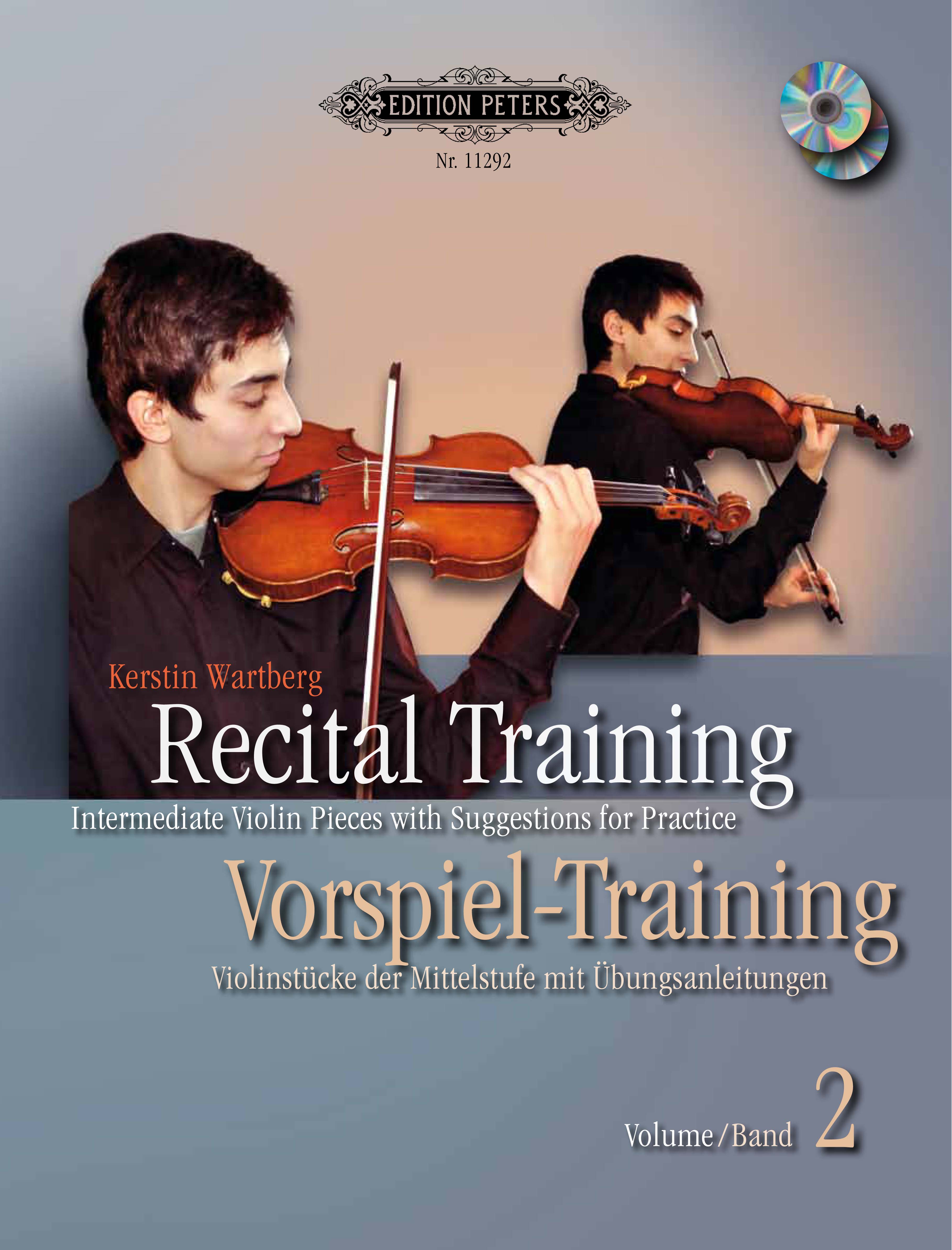 Streaming Audio Album
Violin - Vol. 5A
All MP3 files from the "Recital Training" series
This collection is suitable for violin students using RECITAL TRAINING, vol. 5A and as a supplement for Suzuki students in Book 5.
The audio files of this volume are divided in two parts: 5A and 5B.

Here you find almost all main pieces in THREE tempi:
- SLOW TEMPO (violin & piano)
- MEDIUM TEMPO (piano accompaniment with short violin inserts)
- PERFORMANCE TEMPO (piano accompaniment with short violin inserts)

01 Tuning note
02-03 Gavotte I & II, J. S. Bach Performance tempo – Vorspieltempo (violin & piano)
04-05 Gavotte I & II, J. S. Bach Performance tempo – Vorspieltempo (violin solo)

06 Marionette Dance - Marionettentanz (violin & piano)

07 Concerto in A Minor, 2nd Mvt / Konzert in a-Moll, 2. Satz, A. Vivaldi
Performance tempo – Vorspieltempo (violin & piano)

08 Shifting Etude - Lagenwechseletüde (violin & piano)

09-13 Concerto in G Minor, 1st Mvt / Konzert in g-Moll, 1. Satz, A. Vivaldi
Performance tempo – Vorspieltempo (violin & piano)
14-15 Concerto in G Minor, 2nd Mvt / Konzert in g-Moll, 2. Satz, A. Vivaldi
Performance tempo – Vorspieltempo (violin & piano)
16-20 Concerto in G Minor, 3rd Mvt / Konzert in g-Moll, 3. Satz, A. Vivaldi
Performance tempo – Vorspieltempo (violin & piano)

21 On Wings of Song / Auf Flügeln des Gesanges, F. Mendelssohn Barholdy (violin & harp)

22 Country Dance / Ländler, C. M. von Weber (violin & piano)

23-24 Hungarian Dance No. 5 / Ungarischer Tanz Nr. 5, J. Brahms (violin & piano)

25 German Dance / Deutscher Tanz, K. D. von Dittersdorf (violin & piano)

26 Chord Study / Akkord-Etüde (violin & piano)

27-28 Gigue, F. M. Veracini (violin & piano)

29 Morning Star G Major / Morgenstern G-Dur (piano)
30 Morning Star G Minor / Morgenstern g-Moll (piano)

31-32 Gavotte I & II, J. S. Bach - in a slow practice tempo (piano)
33-34 Gavotte I & II, J. S. Bach - in performance tempo (piano)
35 On Wings of Song, F. Mendelssohn Bartholdy - in performance tempo (piano)
36 Staccatissimo
37 Country Dance, C. M. von Weber - in a slow practice tempo (violin & piano)
38 Country Dance, C. M. von Weber - in a medium practice tempo (piano)
39 Country Dance, C. M. von Weber - in performance tempo (piano)
40-41 Hungarian Dance No. 5, J. Brahms - in a slow practice tempo (violin & piano)
42-43 Hungarian Dance No. 5, J. Brahms - in performance tempo (piano)

The following files you find in 5B:
01 Tuning note
02 German Dance, K.D. von Dittersdorf - in a slow practice tempo (violin & piano)
03 German Dance, K.D. von Dittersdorf - in performance tempo (piano)

04 Concerto in A Minor, 2nd Mvt, A. Vivaldi - in performance tempo (violin in the background)

05-09 Concerto in G Minor, 1st Mvt, A. Vivaldi - in a slow practice tempo (violin & piano)
10-14 Concerto in G Minor, 1st Mvt, A. Vivaldi - in a medium practice tempo (piano)
17-21 Concerto in G Minor, 1st Mvt, A. Vivaldi - in performance tempo (piano)

15 Shifting Etude - Lagenwechseletüde (violin & piano)
16 Intonation Exercise - Intonationsübung (violin & piano)
22-23 Concerto in G Minor, 2nd Mvt, A. Vivaldi (violin in the background)
24-28 Concerto in G Minor, 3rd Mvt, A. Vivaldi - in a slow practice tempo (violin & piano)
29-33 Concerto in G Minor, 3rd Mvt, A. Vivaldi - in a medium practice tempo (piano)
34-38 Concerto in G Minor, 3rd Mvt, A. Vivaldi - in performance tempo (piano)
39-43 Concerto for Two Violins in D Minor, 1st Mvt, J.S. Bach, Violin 1 - in a slow practice tempo (violin & piano)
43.a Concerto for Two Violins in D Minor, 1st Mvt, J.S. Bach, Violin 2 - in a slow practice tempo (violin & piano)
43.b Concerto for Two Violins in D Minor, 1st Mvt, J.S. Bach, Violin 1 - in performance tempo (Vl. 2 in the background)
43.c Concerto for Two Violins in D Minor, 1st Mvt, J.S. Bach, Violin 2 - in performance tempo (Vl. 1 in the background)
44 Etude in D Minor – Etüde in d-Moll (piano)
45 Etude in G Minor – Etüde in g-Moll (piano)
46-47 Etude in Three Positions – Etüde in drei Lagen (piano)

48 Gigue, F. M. Veracini, Part 1 - in a slow practice tempo (piano accompaniment with short violin inserts)
49 Gigue, F. M. Veracini, Part 2 - in a slow practice tempo (piano accompaniment with short violin inserts)
50-51 Gigue, F. M. Veracini - in a medium practice tempo (piano accompaniment with short violin inserts)
52-53 Gigue, F. M. Veracini - in performance tempo (piano accompaniment with short violin inserts)
Rudolf Gaehler, violin
David Andruss, piano and piano arrangements
More information about the series "Recital Training," vol. 2 you find here:
https://en.germansuzuki.com/?page_id=1038
© Deutsches Suzuki Institut